TRANSCRIPTION FACTORS AND ASSOCIATED REGULATORY NETWORKS IN THE SYMBIOTIC INTERACTION BETWEEN LEGUMES AND RHIZOBIA
Factores de transcripción y redes regulatorias asociadas en la interacción simbiótica entre leguminosas y rizobios.
Flavio Blanco (PI), María Eugenia Zanetti (CoPI), Joaquín Clúa (PhD student), Carla Roda (PhD student), Carolina Giorgis (undergraduate student)
Symbiosis between legumes and rhizobia relies on two independent but strongly coordinated genetic programs, one associated to the infection and the nodule organogenesis. Several transcription factors are part of the cell reprogramming required to form functional N-fixing nodules. Our work is focused on a heterotrimeric transcription factor known as NF-Y. The C subunit of this complex is necessary for development of nodules and for the selection of rhizobial strains that have coevolved with common bean plants at the centers of genetic diversification and domestication. We have also shown that NF-YC interacts with another transcription factor of the GRAS family, SIN1, which is also required for nodule organogenesis and infection. Using chromatin immunoprecipitation followed by deep sequencing or PCR we are characterizing the target genes controlled by these transcriptional regulators.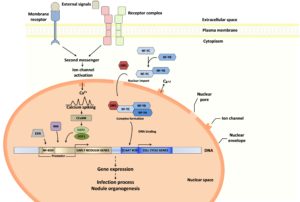 TRANSLATIONAL CONTROL OF GENE EXPRESSION IN LEGUMES DURING NITROGEN FIXING SYMBIOSIS
Control traduccional de la expresión génica en leguminosas durante la asociación simbiótica fijadora de nitrógeno.
María Eugenia Zanetti, (PI), Flavio Blanco (CoPI),  Soledad Traubenik (PhD student), Marcos Lancia (PhD student), Karen Hobecker (PhD student) y Milagros Ferrari (undergraduate student).
The formation of functional nitrogen fixing nodules requires the reprogramming of root cells for symbiosis, which is accompanied by dramatic changes in gene expression. Regulation of gene expression is multi-step process that involves both transcriptional and pos-transcriptional adjustments.  Among them, translation regulation is a widespread mechanism that allows the cell to rapidly activate or repress translation of pre-synthesized mRNAs in response to endogenous or exogenous signals, without the need of de novo transcription, thus providing flexibility and adaptability to the root cells. In our lab, we aim to understand the molecular bases of selective translation and its relative contribution to the reprogramming of gene expression during root nodule symbiosis. We use the translating ribosome affinity purification (TRAP) technology  (Figure 1) combined with RNA-sequencing to identify transcripts that are either up-or down-regulated at translational level in the whole roots or in specific cell types of the root  and nodules.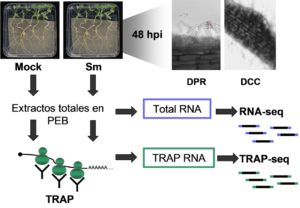 SMALL GTPASES INVOLVED IN VESICLE TRAFFICKING DURING THE RHIZOBIAL INFECTION PROCESS
Función de las GTPasas monoméricas en las vías de señalización activadas por rizobios en raíces de leguminosas.
Flavio Blanco (PI), María Eugenia Zanetti (CoPI), Ana Flores (Posdoc), Claudio Rivero (PhD student), Soledad Traubenik (PhD student)
Monomeric GTPases are modulators of signaling pathways, membrane trafficking, cytoskeleton rearrangements and nuclear transport in all eukaryotic cells. Small GTPases act basically by switching between an active-state bound to GTP and an inactive GDP-associated form; in their active state, small GTPases interact with effector proteins. Rab and Arf GTPases control all stages of membrane trafficking, from budding to cytoskeleton movement and fusion with the target membrane. We have shown that RabA2 from common bean is required for polar growth of root hairs, as well as the early events of the infection process, such as reorientation of the polar growth to form the infection pocket and the establishment and progression of a shallow tube that leads bacteria toward cortical cells, known as the infection thread. This Rab is strongly corregulated with ArfA1 and colocalizes at Golgi stacks and the trans-Golgi network in actively growing root hairs and cells infected by rhizobia.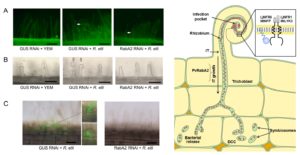 REGULATION OF GENE EXPRESSION MEDIATED BY NON-CODING RNAS IN ROOT NODULE SYMBIOSIS
Regulación de la expresión génica mediada por RNA no codificantes en la asociación simbiótica entre leguminosas y rizobios.
Maria Eugenia Zanetti (PI), Flavio Blanco (CoPI), Karen Hobecker (PhD student), Mélisse Castaingts (PhD student), Soledad Traubenik (PhD student), Claudio Rivero (PhD student), Micaela Buzzatto (undergraduate student) y Cristina Kirolinko (undergraduate student).
MicroRNAs (miRNAs) act as post-transcriptional regulators of gene expression during development or in response to environmental stimuli.Our analysis in M. truncatula revealed that levels of miR390 are reduced at early stages of the symbiotic interaction. The miR390 targets the non-coding transcript TAS3 and triggers the production of the trans-acting small interference RNAs (tasiRNAs). In turn, these tasiRNAs control the stability of transcripts encoding the Auxin Response Factors 2, 3 and 4 (ARF2/3 /4). Overexpression of miR390 (OX390) negatively affected nodule organogenesis and rhizobial infection. On the other hand, expression of a target mimicry of the miR390 (MIM390), which significantly reduced tasiARFs production, enhanced nodulation and altered the morphology and distribution of nodules. Activation of the miR390/TAS3 pathway prevented the induction of the Nodulation Signaling Pathway 1(NSP1) and NSP2 genes in response to rhizobial infection, whereas inactivation of this pathway results in increased levels of NSP1/2, NIN and ERN1, even in the absence of rhizobia. These results suggest that the miR390/TAS3 pathway regulates, either directly or indirectly, the expression of symbiotic genes that are essential for nodulation. RNA-seq and ChIP-seq analysis will allow us to identify the putative direct targets of this pathway under symbiotic conditions.